Want to change your life? Remember these things.
Hello, how are you? Some of you may agree with these views, and some may disagree. So let's try to understand the hidden essence in the words of these policies. Can one make life successful and happy by following those things? I am 100% sure that after reading this, you will know the new way to live. Let's tell you today those things that deliver a significant positive change in your life.
1) Don't share your flaws with anyone
It has often been seen that people tell their many things to their close friends or relatives. There are also some such things in them that you speak in your weak times, and later you have to bear its brunt. Every person has some weakness, but why give your liability in someone else's hand.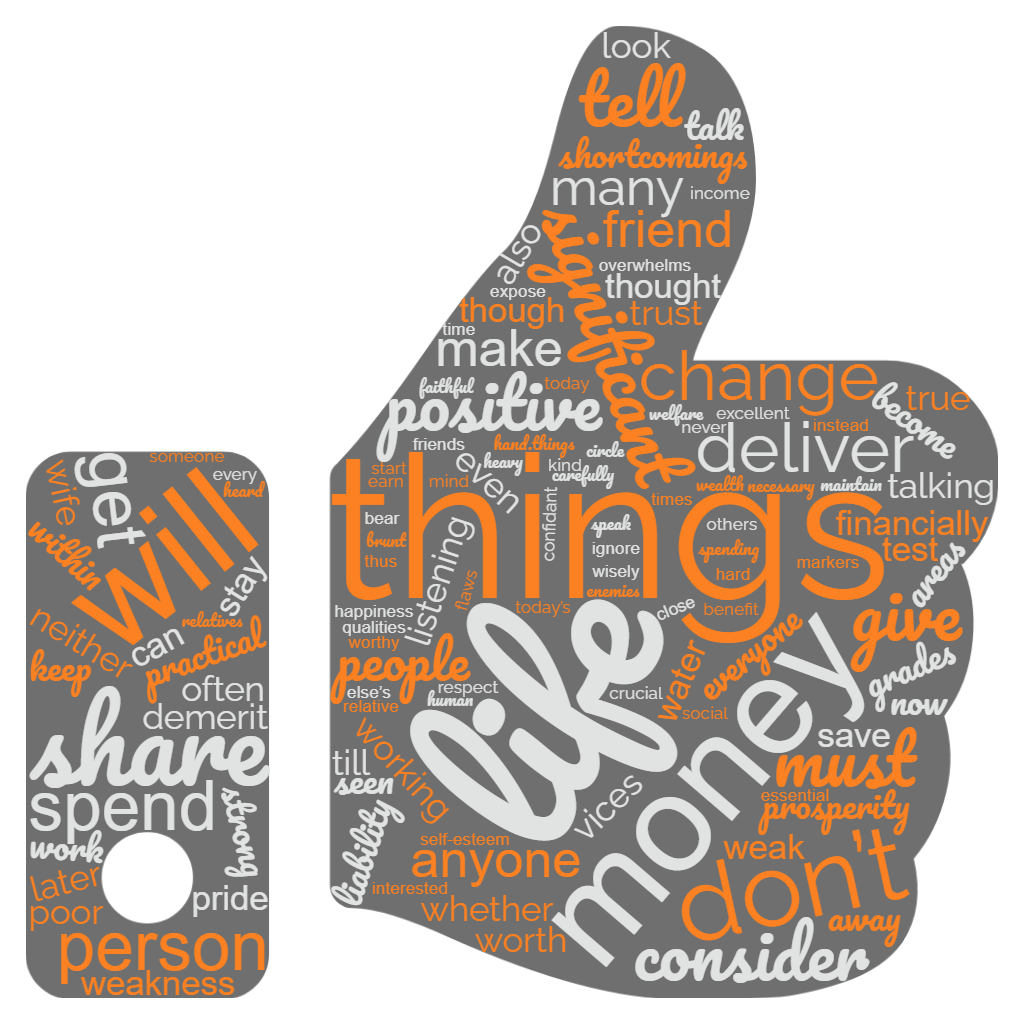 Thus, never tell your weak areas to anyone, whether it is your friend, relative or wife. Do not expose your shortcomings to others to maintain your self-esteem. You will not get any benefit by doing this.
2) spend money wisely
You must have heard till now 'Water is life' but in today's time 'Wealth is life'. It is crucial for any human being to be financially strong. The person who does not have money will neither get any happiness, prosperity, or respect.
If you work so hard to earn money, then give some thought to spending it too. If you spend more than your income, you will become poor. So, make money and save it. Do You like to become rich? Know this here.
3) Don't consider everyone a confidant
There will be some people in your friend circle whom you trust and share all your things with them, even the essential things in your life. But if any of your friends ignore you instead of listening carefully, he is not worthy of your trust.
Only talk to people who are worth talking to you. Keep in mind that you can make many enemies, but it is necessary to test them to make a true and faithful friend.
4) stay away from vices
You must have often seen that even though you have many qualities, you are practical, kind, and interested in social welfare. But if you have pride, this demerit overwhelms all your markers. So look within yourself and consider whether there is any demerit in you heavy on your excellent grades. If there is, then start working on it from today itself.
Don't share these things with anyone.
Do not tell these things to anyone even by forgetting by which you will have to bear humiliation and loss. If anyone keeps these things in mind, one can avoid many problems and live a happy life. We should not mention some things to others. Otherwise, there may be humiliation and loss in life.
5) Things between husband and wife
According to ethics, a person should never share the things of their married life with anyone else. It is better that you kept the conversation of your married life to yourself.
Especially if there is any dispute between you and your spouse, you should not mention it to any third person, even if one is a trusted friend. Due to this, you may have to suffer the loss of respect in the future. Along with this, there is also a rift in your relationship.
6) Insulted at someplace?
If you have been insulted somewhere, you should not mention it before anyone, even by forgetting. It may make you a victim of ridicule. Keep the insult done to yourself and take a lesson from it in future.
7) Don't share Action plan
In today's era, one should never mention important things or plans related to their work before any other person. Due to this, you may have to suffer losses in the workplace. It also reduces the chances of getting success in the task assigned to someone. That's why you should tell someone after finishing the job assigned to you.
8) Don't reveal family secrets
If there is any discord in your family, then even after forgetting, you should not mention the things of the house with anyone. Due to this, you have to face humiliation as well as people can take undue advantage of the rift in your relationship when the time comes. Keep them confined to your family.
Don't accept proscribed money.
You should not use such money even by forgetting. Otherwise, there is a loss of respect. Money is necessary for life, but I want to tell one about wealth, which one should not touch even by forgetting. Due to such wealth, you have to suffer the loss of honour and respect.
9) Money For which one has to sacrifice virtue
One should never forget such wealth in life, for which he has to give up virtue. Those who give up their integrity for the sake of wealth, no one respects them in society. Due to such money, you have to suffer a loss of honour and respect and get into some trouble.
10) The money for which one has to flatter the enemy
I don't want wealth that makes me flatter my enemy. One always has to be humiliated because of the wealth that one gets by inflating the enemy. Along with this, the person himself feels self-loathing within himself, so it is advisable to give up such wealth.
11) The money that had to endure torture
I don't want money for which I have to suffer. The meaning here is that it is better to give up such wealth, due to which you have to bear any torture. These tortures can hurt you both physically and mentally.
Conclusion
If human beings follow these things in their life, they can achieve success one day. One should not discuss any work or plan with anyone. But instead, you should tell everyone about it after completing the job with total dedication.
If you inform about work-related goals to someone else, you are reducing the chances of success in your work. While doing any work, if you start feeling fear due to problems, you should face it with courage. And after removing the fear of the mind, you should work with complete dedication.
One should not regret thinking about their past and should not be worried thinking about future consequences. An intelligent person concentrates on their present and tries to make it better. A person who works hard in the present time will surely get success in the future.
You will see that the things mentioned earlier deliver about a significant positive change in your life. Remember these five life management things, which teach us the art of living life, are as follows: Cleanliness, Dedication, Kindness, Righteous and Restraint. The person who can control senses can move ahead in their life and do something special.