A divorce is a complex and painful process in which you deal with the feelings of losing your partner. Usually, these feelings don't let you down. Yet it isn't easy to know how to live after a divorce and what the next steps are when everything is over.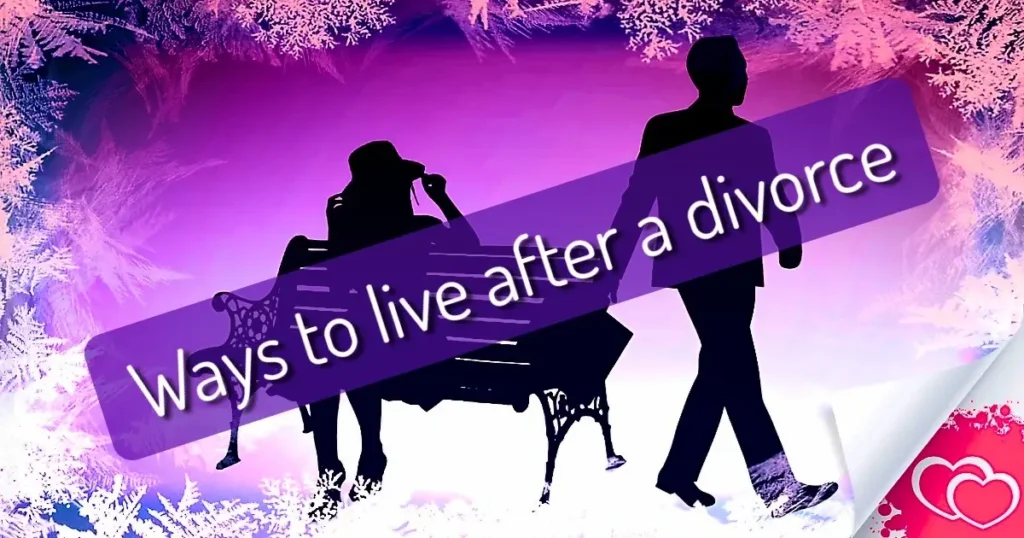 You struggle to sort out your finances, deal with your kids, and often move to a distant place. All these things can be overwhelming, especially if you're doing it all on your own. When a marriage ends, you can feel like the world is collapsing.
You can do a lot to remove their memories from your heart, such as destroying their photos, albums, and gifts. Or you can unfollow them on social media. So, luckily, there are some ways to start rebuilding your life. Here are a few tips about how to live after a divorce and move forward. Let's continue.
I. Tips to live after a divorce
Divorce can be one of the most challenging experiences a person goes through in their lifetime. It can be demanding for people to figure out how to live after a divorce. However, there are ways to move forward and make the most of your life.
If you're reading this, you're likely feeling a range of emotions following your divorce: upset, scared, anxious, and maybe even a little angry. It's natural to handle all these things, and giving yourself the time and space to experience them is crucial.
Yet, at some point, you'll need to start moving forward. Here are a few tips to help you get started.
II. Six tips for moving forward
There is no definitive answer to overcoming a failed relationship. However, there are a few tips that can help make the process a little easier.
First, it is crucial to accept that the relationship is over. This may be difficult, but dwelling on what could have been will only make the healing process more difficult.
Second, try to focus on the good memories. You may forget it, but it's essential to remember the good times that you shared.
Third, don't hesitate to reach out to your friends and family for support. They will be more than happy to help you through this difficult time.
And finally, give yourself time to heal. It will not happen overnight, but eventually, you can move on.
So let's move and look at those points.
1. Don't dwell on the past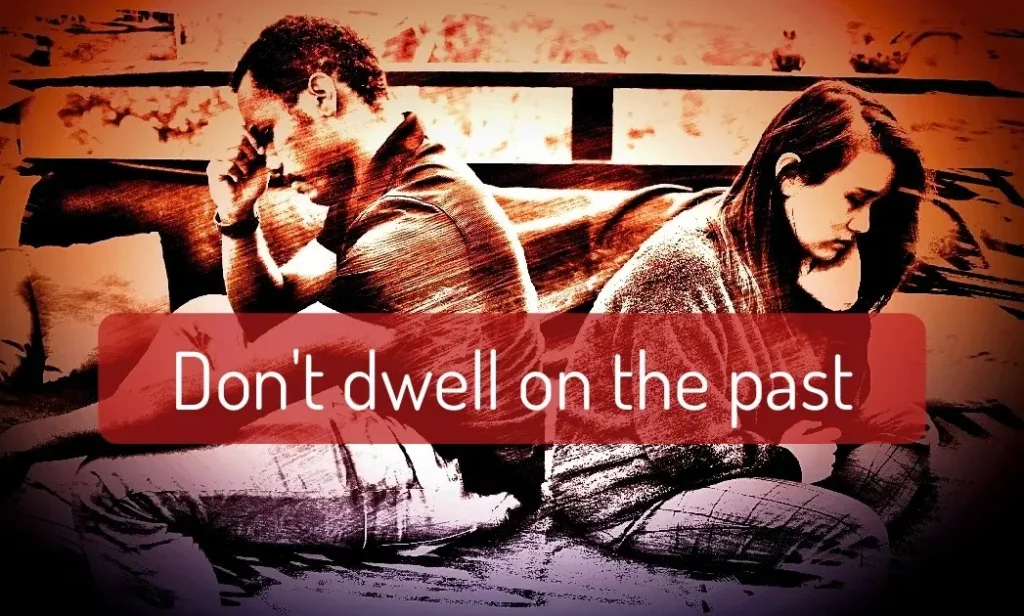 It can be tough to move on from the past to some extent. You may feel like you've made mistakes that you can't undo or that you can't forgive yourself for. But dwelling on the past won't do you any good. The past is history, and it's time to focus on the present and the future.
Think about all the things you want to do in the future. What are your goals? What were your dreams? Allow yourself to dream big, and don't let the past hold you back. There's no point in living in the past when you could live in the future.
Of course, it's not always easy to let go of the past. But it's worth it. When you focus on today, your future itself will shine. You'll find that you're happier and more productive, and that's something to be proud of.
2. Focus on your future
Getting lost in the present is easy, especially when things are tough. But it's helpful to remember that the present is just a small part of your life. The future is much longer, and it's what you should focus on. When you do this, it'll motivate you to get through the tough times, e.g., live after a divorce.
Think about your long-term goals and what you need to do to achieve them. Break down those goals into smaller, more manageable steps, and start working on them. Having a plan will help you stay focused and motivated.
It's also imperative to stay positive. Please don't dwell on negative thoughts or let them hold you back. You should focus on the pleasant things in your life and be grateful for them. When you do, you'll be delighted and more motivated.
So focus on your future, stay positive, and take action. You can achieve anything you set your mind to.
3. Seek support from friends and family
No one knows what to do when struggling with mental health. It can be a very isolating experience. You may feel you are the only person in the world who is dealing with these feelings. But that is not true. Millions of people deal with mental health issues every day. You are not alone.
One of the most helpful things you can do is reach out to your friends and family for support. They want to help you, and they can be a reliable resource for finding information and resources. Besides this, they can also provide emotional support and a listening ear.
If you don't feel like talking to anyone you know, there are also lots of online support groups and communities where you can find help. The most important thing is not to keep your feelings bottled up. Talk to someone about what you are struggling through. It will help you feel better, e.g., to live after a divorce.
4. Take care of yourself
Self-care is essential. You need to take care of yourself in order to be your best. It means taking care of your mind, body, and spirit.
It would help if you made time for yourself every day. This might mean taking a relaxing bath, reading a book, getting outside for a walk, or meditating. Eating healthy and exercising will help keep your mind and body healthy.
Spiritual self-care is also essential. It'll help if you do things that make you feel happy spiritually. This might mean praying, meditating, or reading spiritual books. Make sure to take care of yourself so you can be your most productive!
5. Embrace change
Change is often difficult to accept, especially when it is unexpected. However, to grow and improve as individuals, we must be willing to embrace change. It can't be easy, but with time and effort, you can accomplish this. One way to make embracing change easier is to create a plan for moving forward.
When we know what to expect and have a plan in place, it is less daunting. We can also make a list of the pros and cons of the change. This will help us to weigh the risks and rewards of change and make a more informed decision.
Finally, we should remember that change is a natural part of life. It is happening all around us, all the time. We can't stop it, but we can choose how we respond to it. Embrace change and allow it to help you grow and improve.
6. Keep a positive outlook
No matter what life throws your way, it is imperative to keep a positive outlook. By doing so, you can handle whatever comes your way with a smile on your face. When feeling down, take a few minutes to reflect on all the positive things in your life. Once you have done that, you will be ready to take on whatever challenges come your way.
III. Final Words
Getting divorced is one of the most challenging experiences a person goes through. If you're currently navigating through a divorce, you may feel a range of emotions, including sadness, anger, and relief. You may also feel scared about the future and wonder how to remake it on your own. But the fact is, many people do successfully move on after a divorce. And with the proper support and resources, you can too. So here's a quick summary:
Give yourself time to grieve.
It's normal to feel confused after a divorce. Give yourself time to process your emotions and grieve the loss of your marriage. Don't force yourself to move on too quickly.
Focus on the future.
Although giving yourself time to grieve is okay, it's also wise to focus on the future. What do you want your life to look like after your divorce? What are your goals and aspirations? Start taking steps to make your future a reality.
Learn to love yourself.
One of the best things you can do after a divorce is to learn to love and appreciate yourself. It means taking care of yourself emotionally and physically and making time for activities that make you happy.
Seek support.
Talking to friends and family members who have been through a divorce can be helpful. You can also join a divorce support group or seek professional counseling.
Be patient.
Recovering from divorce takes time. Be patient with yourself as you adjust to your new life. It may take a while before you feel like yourself again. But eventually, you will find your way back to your old self, or maybe an even better version of yourself.
Find a new hobby.
Now is an excellent time to try something different. Pick up a new hobby or join a club. It can help you meet new people and give you something to look forward to outside of work and your past family life.
Get involved in your community.
Volunteering in your community is a meaningful way to meet new people and make a difference in your community. It can also help you feel connected and supported.
Reconnect with old friends.
One of the best things about divorce is that it gives you an opportunity to reconnect with old friends. Catch up with them over coffee, lunch, or dinner. They will be happy to hear from you and will be a helpful support system.