WordPress is a popular option for small businesses, bloggers, and anyone who wants to build a website without needing to learn a complicated coding language. Let's explore the best hosting for eCommerce and WordPress websites.
Are you looking for the best hosting for WordPress websites?
There are many WordPress hosting companies, but you need to choose the right WordPress host when deciding on a plan. It would be prudent to keep in mind that your site needs reliability and speed. If you do not consider this while choosing a web host, it can affect your website's performance.
We have collected data about their prices and features. When selecting a service provider, some things to consider are SSD storage, RAM, and unmetered bandwidth. This article will show you some of the most reliable WordPress hosting service providers. So if you want to start an online business or an online shop, you can choose from the list below. It is because these are some of the leading WordPress hosting companies!
Best hosting companies for WordPress websites
WordPress hosting is for people who want to build their sites powered by the WordPress content management system (CMS). Many users love WordPress for its flexibility and simplicity, making it an ideal choice for small businesses, bloggers, and anyone who wants an easy-to-use platform. The WordPress team has approved the following hosting services to host WordPress sites.
They offer one-click WordPress installations, performance-optimized servers, and automatic updates. No need to worry about technical details as these hosts will keep your WordPress site running smoothly for you. All companies featured here offer basic hosting plans that include support for WordPress software and a free domain name. If you run into any issues, they have 24/7 support ready to help you out.
The best hosting for WordPress websites
The most reputable web hosts for WordPress also offer enhanced security features such as automatic malware scans and include SSL certificates to ward off cyber threats. Other offerings include free site migration, email accounts, and 24/7 customer support.
1. Bluehost's hosting for WordPress websites
Bluehost is a big name in web hosting for WordPress websites because it's reliable and user-friendly. If you want to start your first blog or website on a budget, Bluehost is a viable option. Bluehost is very popular, especially among those just starting.
They have a lot of features that make them excellent choices for hosting a WordPress site, and they're also affordable. They offer reasonable prices and excellent features, including a free domain name (if you want to stay with .com). If you need help getting started, Bluehost offers loads of support from their knowledgeable team members. Visit BlueHost here!
2. HostGator's hosting for WordPress websites
They provide customers with a wide range of hosting options, including WordPress, shared, cloud, VPS, dedicated, and reseller hosting. The company also specializes in website design services for small and medium businesses. Of course, here you'll find a one-click WordPress installation. It's quick and easy to get started and requires no coding knowledge.
Plus, getting started with HostGator is risk-free, thanks to their 45-day money-back guarantee. If you don't like them, you can get your money back within the first 45 days – no questions asked! It offers 24/7 support via phone, live chat, and email, so you'll always be able to get help when you need it. HostGator provides WordPress hosting that is fully managed. Visit HostGator here!
3. DreamHost's hosting for WordPress websites
DreamHost is a popular managed hosting provider for WordPress websites that offers reliable and fast hosting. They offer a one-click WordPress installation, enabling you to get your website up and running in minutes.
DreamHost has a very responsive customer support team that provides helpful answers 24/7. Also, they offer a 97-day money-back guarantee, making it easy to test performance risk-free.
On the downside, though, DreamHost doesn't come with a free domain name with their service. The hosting plans offered by DreamHost are competitively priced and provide value for money. Relative to other managed hosts, such as WP Engine or FlyWheel, the prices are lower while delivering a similar quality of service. Visit DreamHost here!
4. GreenGeeks, a fully managed hosting for WordPress websites
GreenGeeks offers fully managed WordPress hosting. They are among the top-tier hosting options for WordPress, with speeds up to 300% faster than any leading host. They offer 24/7 support and a 90-day money-back guarantee. GreenGeeks is the greenest WordPress hosting company around. They provide fully-managed WordPress hosting and free domain name registration with every package.
GreenGeeks has high-speed servers for both shared hosting and managed WordPress hosting plans, which give you up to 300% faster load times than other hosts. GreenGeeks has three types of hosting – Shared Hosting, Reseller Hosting, and Managed WordPress Hosting. Pricing starts as low as just $2.95/mo for Shared Hosting, $19.95/mo for Reseller Hosting, and $39.95/mo for Managed VPS Hosting. Visit GreenGeeks here!
5. SiteGround's hosting for WordPress websites
SiteGround has data centers in the US, Asia, Europe, and Australia. It claims to be the only web hosting company with data centers on three continents. When you sign up for a plan, you'll get free features like email accounts, an SSL certificate, regular backups, and a CDN (Content Delivery Network). Prices start at $3.95 per month for the StartUp plan (which is limited to one website).
For hosting many WordPress websites or needing more advanced features (like priority support), check out their GrowBig ($6.95) or GoGeek ($10.95) plans. While SiteGround is cheaper than competitors like Kinsta and WP Engine, it still offers 24/7 customer support via live chat or phone calls.
It also has a 90-day money-back guarantee if you cancel your account within that time frame. Visit SiteGroung here!
6. InMotion hosting for WordPress websites
InMotion Hosting is a big name in the web hosting industry. They have been around for a while, and they have built up a very stellar reputation over the years. They offer several hosting plans for WordPress websites ranging from basic to high-end strategies, such as dedicated servers for their customers. We recommend InMotion Hosting because of its high uptime, speed, and customer service.
InMotion offers three unique plans: WP-Launch, WP-Power, and WP-Pro. You can install these plans with one click using Softaculous, which comes with cPanel, so you don't need to install WordPress manually! The only difference between them is the storage space and bandwidth each plan includes. It varies depending on your needs, but all come at an affordable price, starting at $5/month. Visit InMotion Hosting here!
7. WP Engine's hosting for WordPress websites
WP Engine's plans are pricey, and they're the most expensive option on our list. The company offers five unique plans, including one for WordPress users who want to launch a store. WP Engine is a top choice for WordPress users who wish to launch a store. You can opt for fully managed hosting for WordPress websites using WP Engine. Cost: $25 to $1,200 per month. Visit WP Engine here!
---
The above list is not in any specific order. So it would be advisable if you read the descriptions and reviews before making a final decision. If you have questions about one of these providers, leave a comment below.
WordPress is the most popular website-building platform on the internet, and for an excellent reason. It provides an intuitive interface that makes it easy to build a website without knowing how to code. So among different hosting services out there, the three that have scored five stars are:
Highest Overall: Bluehost
Suitable for Small Businesses: DreamHost
Top Pick for Serious Bloggers: SiteGround
Why is WordPress so popular?
Nearly one-third of all websites on the Internet use WordPress. That's a lot of sites! But why is WordPress so popular? For starters, the software is free. And because it's open-source, you can find tons of themes and plugins for your site.
Plus, you can customize the appearance and functionality of your site without hiring a developer. You can also build just about any niche website with WordPress — from a simple blog to a full-featured eCommerce site.
WordPress also has significant community support and an active user base. It means tons of tutorials and resources are available to help you learn how to use it effectively. And hosting companies that work with WordPress make it easy to get started using this CMS.
Many web hosts offer one-click WordPress installations that make getting up and running with your WordPress site super easy. They also provide automatic updates and performance-optimized servers for your WordPress sites.
WordPress is a comprehensive content management system used in just about every corner of the web. What makes WordPress so versatile and easy to use is its design. WordPress sites comprise two primary components—first, the core software is free and open-source.
Second, you pay for a theme you choose. The core software is lightweight and efficient, so it can run on practically any server or hosting plan.
There are three types of hosting environments.
While many hosting providers offer WordPress plans specifically, you can also install a site built with WordPress on any shared, cloud, or VPS plan. There are three types of hosting environments you can choose from when installing WordPress:
Shared hosting (the cheapest),
Dedicated servers (the most expensive),
VPS (the middle ground).
Shared hosting is suitable for small websites with low traffic levels that don't have many resources or special requirements. Dedicated servers give you complete control over your server environment, but they are more expensive because they need more hardware and physical space than other types of plans. VPS plans or virtualized versions of dedicated servers let you share hardware with other tenants on the same server but still provide you with your virtual environment.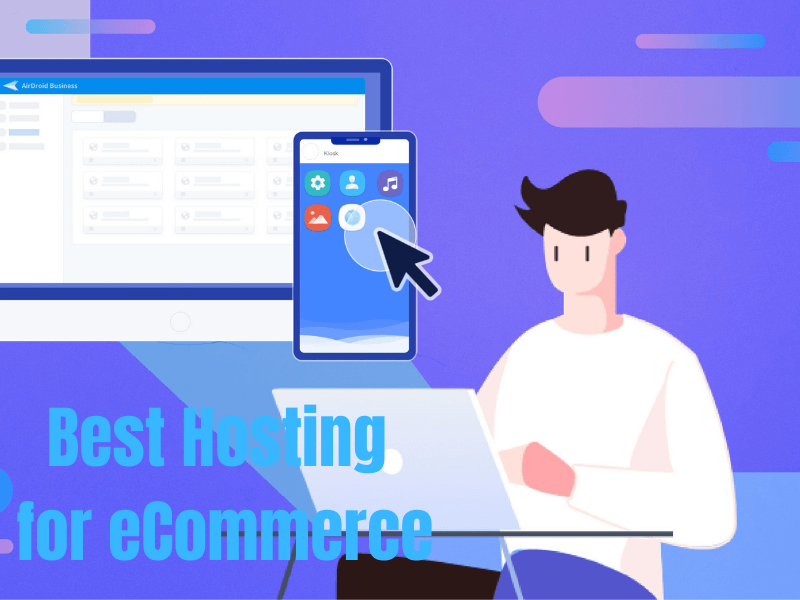 Best hosting for eCommerce websites
E-commerce or online business is the trending mantra of success for young entrepreneurs. The success rate of e-commerce ventures is high compared to traditional businesses, and the reasons are many. You need to think about product/service, management, finances, and customers when you start a business.
But if you decide on an e-commerce venture, all you need to think about is the product/service you want to offer. Everything else will fall into place.
Whether you're just building your eCommerce site or looking to upgrade from a previous host, you'll want to make sure you choose one that's well-suited to the unique needs of your online store. Depending on your store's type of platform, some hosts are better equipped than others.
Hosting plans with servers optimized for these platforms will better suit Shopify and Bigcommerce stores, while WordPress users must look at hosts with built-in WP features. The most important thing is to choose an eCommerce host that offers fast speeds, excellent customer service, uptime guarantees, and unlimited storage. It should also have an easy-to-use control panel that lets you access server settings without knowing how to code.
We've rounded up some of the best hosting for eCommerce websites right now
When you start an online business, one of the most critical decisions is the hosting web service you will use. Although it may seem complex and confusing, choosing the best web hosting service is no longer complicated. Once you decide which type of hosting your site requires, it's time to compare different hosting services.
Before we delve into what makes a suitable host, let's look at some popular options for eCommerce stores. The best hosting for eCommerce can make your websites load faster and seamlessly, plus provide security to protect your customers' data. Here is a list of the top six eCommerce hosting providers, each with a brief overview of their services and features.
1. HostPapa for eCommerce websites
HostPapa's shared basic plan is an affordable choice for small businesses looking to transition to eCommerce hosting. HostPapa is Canada's top web hosting provider. They are one of the few companies offering quality web hosting in Canada. Serving thousands of customers every day, they have become one of the fastest-growing hosting companies in the country.
Instead of outsourcing our support and sales teams, a team of highly trained and dedicated professionals ensures that you get the fastest and most efficient service possible from your web host. Besides premium Canadian hosting, they also offer domain registration for .com, .net, .org, .ca, and many more extensions. Go here for HostPapa!
2. HostGator's hosting for eCommerce websites
It has established itself as a top provider of resellers, shared VPS, and dedicated web hosting. HostGator is among the top 10 most significant web hosting companies, hosting more than 8,000,000 domains. They have over 850 employees who provide 24/7 customer service.
That makes it ideal for anyone in need of hosting services, whether it's for personal, business, or Fortune 500 hosting. They offer shared hosting plans that are affordable and packed with notable features. It has three shared hosting plans available: Hatchling Plan, Baby Plan, and Business Plan. Their cheapest hatchling plan starts at $3.95/month, including one domain name.
Their most popular baby plan starts at $5.95 per month, which allows you to host unlimited websites under this account. If you are serious about your website or have high traffic, then their business plan costs only $5.95/month. This gives you the ability to host unlimited websites on private SSL & IP. HostGator's official website is here!
3. Bluehost for eCommerce websites
Bluehost is a hosting service that Endurance International is affiliated with. It is among the top 20 web hosts, offering over two million domains with its other businesses, HostMonster, FastDomain, and iPage. Bluehost hosts its servers on-site in 50,000 square feet in Provo, Utah, now part of the shared facility with sister company HostMonster. Bluehost employs 700 people in its Utah facility. Visit BlueHost here!
4. BigCommerce hosting for eCommerce websites
So, it would be helpful if you hosted your eCommerce store. If you are just starting out and do have not much money to spend, BigCommerce is an excellent place to start. It's a hosted eCommerce platform that takes care of all the technical aspects of running an online store (e.g., finding and maintaining servers), so you can focus on selling products and growing your business.
Several big-name brands use BigCommerce because it has extensive features, is easy to use, and has reasonably priced plans. BigCommerce offers a free 15-day trial that lets you sell up to 10 products, so it's worth signing up if you want to give it a shot before paying any money. Visit BigCommerce here!
5. GoDaddy for eCommerce websites
GoDaddy is a great hosting option for eCommerce. It has a 99.9% uptime guarantee, and its customer service is top-notch. GoDaddy offers 24/7 live chat support so that you can get help from the company's friendly representatives in no time at all. But what sets GoDaddy apart from other eCommerce hosting sites is that it offers various hosting options for you to choose from based on your needs and budget. Visit GoDaddy's official site here!
6. Volusion, a nice option for eCommerce
This is an excellent option for small to medium-sized businesses that want to get started online because it's a robust platform that offers excellent support. Volusion has a magnificent library of video tutorials and forums where you can talk with other Volusion customers. Click here for Volusion!
The best hosting sites for eCommerce are HostGator, Bluehost, BigCommerce, GoDaddy, and Volusion. The best sites for eCommerce that use WordPress are WP Engine, Bluehost, Kinsta, Flywheel, and Pressable.

Opt for these
Conclusion
Web hosting service is vital to any online business, but it is essential if you are running an eCommerce site. The last thing you need is your website shutting down because not enough resources are being used to support the number of people who visit every day. So what is the solution? Any reliable hosting package should include unlimited bandwidth and traffic, and all the hosting suggestions above have those things.
If you are looking for a host that will give you enough room to grow, the hosts listed above should do well. Whatever hosting service you choose, make sure that the features included in the plan are what you need.
Whether you host it yourself or pay someone to host it, your online store requires a reliable hosting service. Do your research before deciding which one is best suited to your business.
After all, you want to sell your products as soon as possible. Once you've decided on a host, don't forget to secure your website with SSL. This way, you will give customers the impression that it protects their information both in transit and at rest.
In the end, you must choose a hosting solution that meets your budget and ideally fits the needs of your online store. We will continue to bring more articles on the best hosting for WordPress websites. Thank you so much for giving me your valuable time. These solutions should help you get started. Now take on and build your dream site!