Creating a WordPress free website
Creating a website has never been easier than it is today. WordPress is a popular content management system that powers around 40% of all websites on the internet. One of the most significant advantages of WordPress is that it is free to use and easy to set up. This makes it an ideal option for anyone looking to set up a website without investing much money or time. In this article, we will explore the steps required to create a WordPress free website. We will also explore some best practices to follow to ensure that your website stands out from the rest.
This is exactly what you can do with the Free WordPress Business Plan. It's easy to use, and as a bonus, it also includes a FREE domain name. You'll learn how much it costs to build a website and what steps to take to make your website work for your business. This will save a significant amount of time, money, and effort. For a beginner, we'll start with very basic to advanced. But in this article, you'll focus only on making a WordPress website totally free.
What is a website?
A website is a collection of web pages that are publicly accessible. You can use a website to share information about your business, promote your products, and build your brand. A website is an excellent tool for marketing your business.
The next decision you need to make is whether you will create a static site or one that includes dynamic content. A static website displays the same information for every visitor, in the same way, regardless of when they visit it.
Dynamic websites change or customize themselves frequently and automatically. Static sites usually have simple designs and few functionalities, but dynamic sites are more complicated and require more development time. The advantage? A dynamic site allows you to make changes easily, so it's always current and relevant for visitors who come back often. Like those on social media sites who are interested in learning more about your business or product offering.
After all, why choose a free WordPress website?
So why should you use WordPress? Since 2003, WordPress has become the most popular website creation tool. As of January 2019, WordPress powers 30% of all websites on the internet. There are some advantages to WordPress.
SEO Friendly: Search engines love it! How WordPress sites are structured makes them very appealing to search engines like Google and Bing.
Mobile-Friendly: With more and more searches being done on mobile devices, it's crucial to have a mobile-friendly website. A responsive design is necessary for any modern business website with all the different mobile devices. Again, because of how WordPress is designed, your site will look great on any device, from phones to tablets to desktop computers, without having you do anything special or extra.
Easy to Use: With over 50% market share for Content Management Systems (CMS), it becomes difficult to say that one CMS is more accessible than another. However, from my experience as I've dealt with many other CMS (Joomla, DotNetNuke, and Drupal being some examples), I still find WordPress to be much easier than others for my clients (and me!)
Easy Maintenance: WordPress has an update feature built right in, so simply click a button when you need to update your site application or plugins! It's that easy! Besides, thousands of free plugins are available, making adding functionality very easy and affordable with no coding requirement!
Difference between a WordPress.com and WordPress.org
To put it simply, WordPress.com is a hosted platform, and WordPress.org is a self-hosted platform.
So when you use WordPress.com, you'll host your website or blog on the servers of WordPress.com for free.
When you use WordPress.org software, you'll need to get your hosting plan and install the software yourself using your domain name.
The primary reason people choose WordPress.org is that it gives them complete control over their website and its features, like themes and plugins, to customize everything according to their needs.
What is a domain name, and how do I select one?
A domain name is the web address for your business website. For example, our domain name is www.webpagespots.com. The domain name should be unique to you and your brand (not someone else's).
What is a top-level domain?
The "top-level" of a website's URL (the part after the last dot, such as .com) is known as its top-level domain (TLD). Some of the most common TLDs are .com, .org, and .net. Other examples include country codes such as .co.uk or specific types of websites like .edu (for educational ones).
What is web hosting, and which hosting provider should I use?
Web hosting is a service that allows organizations and individuals to post a website or web page on the internet. A web host, or web hosting service provider, is a business that provides the technologies and services needed for a website or webpage to be viewed on the internet. Websites are hosted or stored on special computers called servers.
When Internet users want to view your website, all they need to do is type your website address or domain into their browser. Their computer will then connect to your server, and it'll deliver your web pages to them through their browser. Most hosting companies demand that you own your domain to register with them. If you don't have a domain name, hosting companies will help you purchase one.
Which theme should I use for my business website?
When it comes to choosing a theme for your business website, many options are available to you. You can choose from popular themes like the Newspaper or Astra themes. It has proven these themes to be very effective for all businesses. If you want something unique and custom, you can also check out other popular WordPress themes like the Divi Theme or the StudioPress theme.
Themes are also available in different sizes and colors so that they can easily match your business style and requirements. For example, if your business is selling clothing, you will probably prefer having a black and white theme rather than one with bright colors, like blue or green. Ultimately, it's your choice which theme to use for your website.
You can choose among the many free WordPress themes available online by searching using a search engine like Google, Yahoo!, Or Bing. The more popular websites usually include some of the most popular ones. Therefore, this may be an excellent place to start when looking for an attractive theme for your website.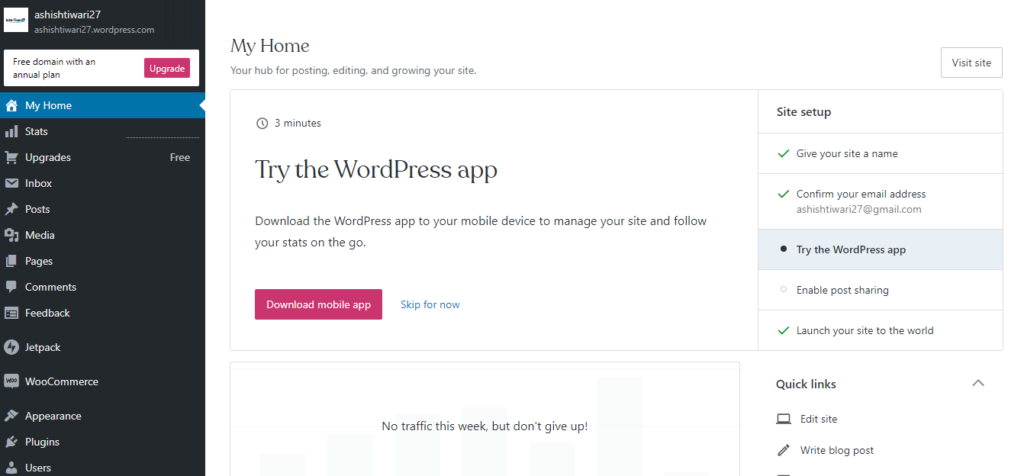 Setting up your business website free of cost with an easy-to-follow guide.
We will guide you in setting up your business website with WordPress. Here we'll discuss setting up your business WordPress free website free of cost with an easy-to-follow guide. Before starting your web presence, you need to research the domain name and its extensions. Check whether the domain name you have chosen is available and, if not, select an alternate.
Getting a domain name
The first step is getting the domain name, e.g., the site's address, such as Webpagespots.com, Facebook.com, and more! Choosing a good name for your business site is very logical because your customers and clients will use it to find it online!
If you already have a name for your business, register that as your website's domain name! You can easily buy a domain from some of the most popular domain registrars like NameCheap.com, Dynadot.com, or Godaddy.com. It costs around $12 per year for an average .com extension.
But if you don't have any specific ideas about domains, many free tools are available, like LeanDomainSearch. This helps us determine what domain names are available based on the search box's keywords. For example, if someone wants to create a blog, they need to enter the keyword blogging.
Pick a reliable domain registrar.
Registering a domain name with an unreliable vendor may cost you more over time or even make it difficult for you to contact them when needed. It is an excellent idea to check with the Better Business Bureau (BBB) before taking a plunge with a company offering web services.​ Some companies provide hosting and domains at reduced rates, so check out these options.
You can also look for offers on social media for deals on buying a domain using discount codes fed by web hosts. While registering your domain name, don't forget to protect your business identity. People must register only country-specific domains and extensions (.com, .net, .org, etc.). If you are operating a business outside of your home country, we suggest signing both regional and global versions of your domains.
Protecting your business identity
The Whois guard protection service is a privacy protection service that provides the following features and benefits:
It protects your personal information from getting into the wrong hands of identity thieves, spammers, fraudsters, hackers, and other scammers who are always out to contact you.
It ensures that your business identity remains anonymous. You can set up automatic renewal reminders, so you never forget to renew your domain name.
You can easily manage multiple domains at once with one account login in a simple dashboard interface.
It is like driving your email accounts in Gmail or Yahoo mail platform, except it is more straightforward than those of those email platforms.
Creating a free WordPress website is easy with the right hosting environment.
If you're planning to set up a website, you need to have a place where you store all your website files. It is web hosting. Web hosting refers to the service that allows you to put your website online, and it is the place where your website lives. You can't run a website without it! You pay a hosting company to store your site on its servers and make it available to users worldwide on a 24/7 basis.
What kind of hosting service do you need?
Shared hosting: The most basic hosting plan is shared hosting, which is best suited to bloggers who are just starting out or to those with low-traffic websites. As you share your server with other sites, it will affect your site's performance if they monopolize resources.
VPS hosting: Virtual private server hosting is where you get a virtual server at a shared hosting price. You get more freedom to install what you want, but other websites can still affect you on the same physical server.
Dedicated hosting: You pay for an entire physical server for your website with dedicated hosting. It gives you complete control over how everything works and how fast it will run. The downside is that this setup costs more than any of the others mentioned here because you need to buy the hardware, find a place to put it, configure all the software correctly, and keep it up-to-date. This one isn't recommended if you don't know what you are doing because things can get expensive if something gets wrong!
Cloud hosting uses distributed computing power to speed up your website when necessary by using multiple cloud nodes working together. Suppose just one local web server that might become overloaded or have some issue that could take down your whole site until it gets fixed again. Although there may still be some issues like security concerns, this seems like an excellent option!
Compare hosting plans and decide which one is the best fit for you.
After choosing your domain, it's time to select your hosting plan. There are different hosting plans, but I will focus on the 3 main types of server plans available to you, including shared hosting, VPS Hosting, and Dedicated Hosting.
Shared Hosting is the most affordable and user-friendly type of hosting plan. It is the recommended option for WordPress free websites that are just getting started or those that receive small traffic. Multiple WordPress sites share the same server resources like RAM, CPU, and storage space on shared or public hosting.
Virtual private server hosting is in between Shared and Dedicated Hosting in price. However, it provides better performance than shared hosting since each WordPress site gets its own resources with VPS hosting.
Dedicated hosting gives you complete control over your website's server resources like RAM, CPU, and storage space. You can run any application or program on a dedicated server without affecting other websites hosted on the same server as yours, unlike shared hosting, where one website can impact the performance of all other websites hosted on the same server as yours because of limited resources being available for all websites hosted on this hosting plan.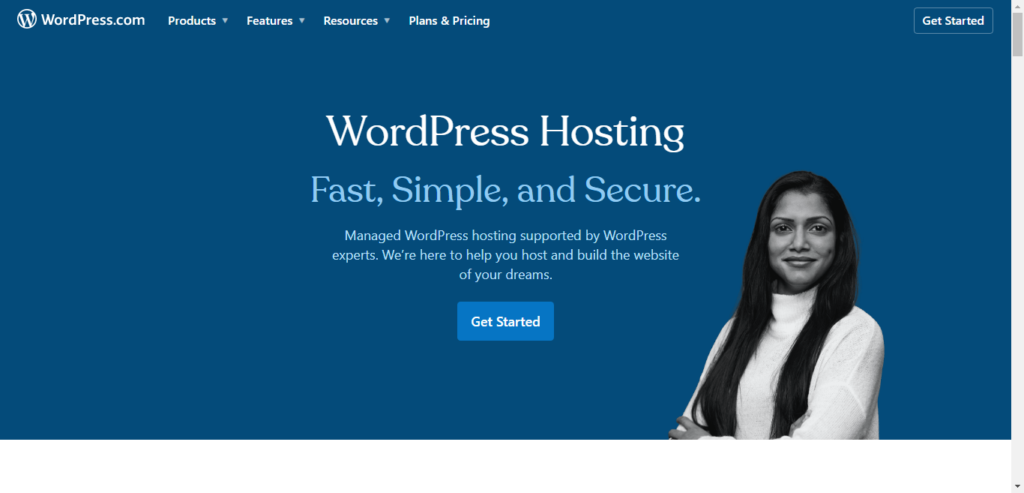 How can we run a free WordPress website at no cost on the web?
Now let's dive into WordPress.com and WordPress.org again. After all, we need to get WordPress running on the internet for free. Does the WordPress business plan include hosting? You can check this URL by clicking here.
WordPress.com Pricing
WordPress.com offers two hosting plans for WordPress websites. Free plan for a WordPress website and a second WordPress Pro website. The WordPress.com business plan includes hosting for your site, so you don't have to pay extra for hosting. Alternatively, you'll pay nothing, but limited resources if you choose the free plan.
WordPress users who build their sites using WordPress software but have not yet subscribed to a paid plan often use a sub-domain (example: your-name.wordpress.com). This is the default setting when creating your first WordPress free website. It's beneficial in allowing new users to get started and familiarize themselves with the basic tools without having an active website right away.
However, if you want to publish content on your website immediately and showcase it publicly in the way that many businesses do (your-business-name.com), it's vital to purchase hosting for your website separately from any of the plans offered by WordPress itself.
WordPress.com has a premium business plan.
Yes. WordPress.com has a premium business plan that includes hosting and much more. Besides hosting, the WordPress.com business plan includes:
A free domain.
Support from our Happiness Engineers, who are available 24/7.
Many premium themes with unlimited use,
A premium plugin called Akismet for spam protection on your site.
The Business plan is worth over $200 per year, but it costs only $299 per year.
WordPress.com free options
WordPress.com offers a free option for its platform, but they provide limited resources. WordPress will provide you with 1 to 3 GB of storage on their servers for your website files, but the problem is that WordPress.com does not allow e-commerce or any plugins (which would otherwise enhance your site).
They also don't allow custom themes. Therefore, you would have to use one of the generic themes that come with the software. Any changes made to those themes require updates to Pro. If you're using the free version of this platform, it's safe to say that WordPress hosts your website for free.
Free hosting sounds appealing because it costs nothing upfront and can be a cost-effective way to launch your own website—but in reality, it's restrictive and not suitable for business websites.
WordPress.org website Your own hosting, domain, and installing WordPress free website
If you have your own hosting and domain and are installing WordPress by yourself, you will need to install WordPress on your server. We recommend this option for advanced users, as it requires some technical knowledge. However, if you have a hosting provider like WP Engine or SiteGround that offers WordPress, this may be the recommended way to set up your website. This is because these providers will help install WordPress itself.
Not all WordPress plans have hosting included in them, but many do.
The WordPress aforementioned company, WordPress, provides several types of plans. Some plans include hosting as part of them, and others do not. The business plan comes with hosting by default. However, the free plan does not include server hostship.
If you want a self-hosted WordPress free website installed on your server or web host, you can use the software on wordpress.org to start your WordPress website. It's free, but you will need to pay for hosting if you want it to live on the internet with a domain name. You can download their software and install it on any shared (or VPS) server account with PHP support for no charge (and then put in your domain name).
If you only need a small website, then I would recommend using WordPress.com for simplicity and ease of use as long as that meets all of your needs. While writing this post, I just created my test WordPress free website on WordPress.com without paying a dime, which you can also do. I will definitely post many more articles on this in the future on my blog at ashishtiwari27.wordpress.com. Thank you for being here and reading about launching a WordPress website absolutely free. If you have any queries related to the content of this post, let us know in the comment section below.